The Curse of Lono and some damn good food
Great weekend--probably the best eating I've done in a while (and if you know me, I tend to always eat very well). Started off on Friday with a nap after work and then ran up to Jordan's place (Chez Kahn) to hang out before the Gene Ween show at the Gramercy. Walked down 23rd the 3 blocks to the new venue and had a great time.
The venue is good. It needs some more wall dressings to help absorb the sound and drinks were too expensive. That and the seats in the back are not designed for people taller than 6 feet. Great sight lines (well, it's just a large room with no columns, so good stuff), good downstairs chill area and it wasn't too crowded. Gener was awesome, as always. But damn, his fans need to mellow out--we saw 4 people get carried out for puking or passing out. Ugly.
Left during the encore to run uptown with Jack for Sushi Seki. Best sushi in the city. Hands down. The spicy scallop rolls are simply the best ever. The blended eel on top of avocado is unreal. The red snapper with sea salt is divide. Damn, I love that place. Cabbed it back to Brooklyn and got some sleep.
Saturday I woke up too early and watched the Constant Gardener. Went to the gym and sat on the promenade for a while. Met Rachel for a glass of wine and panini in Cobble Hill and then went into the city for another pre-concert sesh at Jordan's place. Russ and Beth came down from CT. Found out Adam and Carmen are also pregnant!!! So exciting!
Went down to Irving for UMelt and Tea Leaf Green. UMelt packed the place in for their opening set. And they tore it up. Every person was completely into the music--the band nailed a cover of Once in a Lifetime and then closed their set with a strong, upbeat song. People LOVED it. Tea Leaf came on and played their usual high energy fun jam rock. It was a whole lot of fun. Went down to Deanna's and got some sleep.
Sunday morning was spent brunching at Clinton Street Baking Company--far and away the best brunch spot in the city. The food was top notch. Went back to Brooklyn and started reading the massive hardcover Curse of Lono.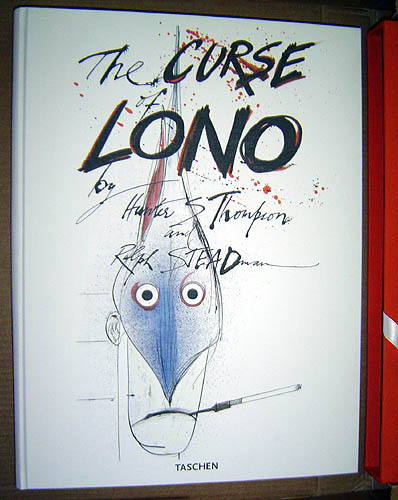 Deanna got this for me for my bday a few months ago and it's insane. The Taschen edition has full color plates by Steadman, letters between HST and his editors, great side bars and other goodies.
Got a few chapters into it and it's your typical Hunter S writing. Covering the Hawaiian marathon in 1980 with Ralph. Expertly written, as expected. Looking forward to finishing it tonight.
Dined out with Steph in Ft Greene last night at Luz, our "L" restaurant. Fantastic South American fair. Some damn good ceviches and white sangria. Very yummy--highly recommended. On to "M" next...